Boris Helleman & Mariëtta Robbé Groskamp for Younikorn Marketing Blog – July 2020.
"Customer Satisfaction is worthless. Customer Loyalty is priceless" –

Jeffrey

Gitomer
Last time we have shared deeper insights about the customer life cycle and how to build your strategy around that. In this article we will lay out 5 proven loyalty features that boost your sales, customer experiences and of course loyalty. Are you ready to compose a bulletproof experience that will make every customer feel as, he or she's the only customer that matters to you?    Today we will discuss 5 different features from a variety of proven Loyalty-programs. You will learn from world known brands such as: Airmiles, Amazon, Sephora, Starbucks and T-Mobile. Sit back, relax and enjoy! 
Where should we start?
So much business advice is focused on how to get your foot in the door and attract customers. In fact, it can lead many business leaders to think that the challenge of dealing with clients ends once you've gotten them to buy your product or service. STOP! You're making a big mistake.  Getting customers to buy something is only the beginning of their relationship with your business. It's also very important to consider how they feel after they spend their money on your service or product. We've all been in the situation where you didn't feel important or acknowledged or you didn't get the right attention. That's where the loyalty kicks in!  To guide you in the jungle of Loyalty programs we have selected 5 proven loyalty features: also known as our self-proclaimed Big 5. This will help you on your way, to select the right loyalty technique for your own business. Let's dive into The Big 5!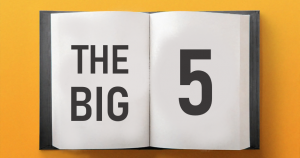 1. Point
s
–
based program: 
This is the most common program. It is based on one principle: Spend more to get more. Every time a customer makes a purchase the customer earns points based on the amount they spend. These points are translated into reward. This could be a discount, a physical gift, special service or donation. Speaking of donation: Did you know that over 61% of the millennial's prefer to donate rewards to a good cause rather than redeem them personally?  Started in 1994 Airmiles is a great example of how this principle can be successful. Interesting fact about this program is that multiple businesses collaborate on 1 program (Ahold, Shell and Praxis). With more than 4 million active users, it is a great success in The Netherlands as well as in Canada.  Important side-note: we suggest to put an expiration date on the points, because the points represent a value. If the points have an unlimited validity, this results in a massive impact on your OPEX results. Important consequence to keep in mind! 
 2.
Paid
–
based
 program
:
With this kind of program customers pay a monthly or annual fee to join a member club. With this member club you get access to special services, discounts or unique benefits that are exclusive to these members. Additionally, the services needs to have an added value, such a free shipping, access to pre-sales or special discounts so customers a willing to pay for it.  Amazon Prime is a great example. Members receive benefits which include free shipment of goods, streaming of movies and music and exclusive shopping deals. Extra interesting feature to get your customers hooked to you: Amazon Prime is offering free Same-Day Delivery in eligible zip codes. You can imagine that you are more likely to choose for Amazon instead of a competitor because you have this kind of this benefit. 
Fun fact: "Amazon Prime Members like their wine white, cold and fast. The fastest grocery delivery last year was from Whole Foods Market, containing a bottle of Oyster Bay Sauvignon Blanc, and arriving in just 13 minutes." 
3. Tier

–

based program:
This is a program where you work with different levels in your loyalty-program. In other words: by spending more you will receive more advantages. Offering different levels of loyalty is the perfect way to involve customers with your brand and It encourages more purchases.   One of the most famous Tier based programs is the "Beauty Insider" from Sephora. There are three tiers of membership in the Program: Insider, VIB and Rouge.   Going the extra mile for your customer: At Sephora they understand better than anyone that you have to go that extra mile for your customer.
Did you know that if your product goes on sale within 2 weeks of purchase you can get the difference back? 
4. Eco-Loyalty program:
Next to receiving free rewards or discounts, there is also a growing customer need to act to save the climate! More and more brands are embracing the concept of "Eco-loyalty".  Starbucks came many years ago with a perfect Eco-loyalty example, which rewards reuse of drink cups. Each time when you bring your own cup you will receive a discount. Nowadays you see more and more companies stepping in to "Eco Loyalty". 
Did you know: that you need 52 gallons of water to produce 1 paper cup? That's 3 showers! Per year it is 10.920 gallons for 1 person's coffee consumption, or 635 showers. 
5. Game
-based 
program:
We all played Mario Bros. once right? Everyone love games, from online games to board games! Therefore integrating a game-element in your loyalty program is a great idea to do. It is effective because it incentives customers to perform certain actions by appealing to their competitive nature.  A great example is "PrePaid Surprise" from T-Mobile Netherlands where they rewards their prepaid customers. With every top up, customers receive a unique code and are invited to play an interactive and fun hidden object game where you can win prizes. There are two level of prizes. First off all you always win free minutes, MB's or SMS. Next to that you can also win amazing physical prizes e.g. holidays, Concert Tickets, Goodies and shopping vouchers. 
Interesting inside: For over 9 years "Prepaid Surprise" is a great success story where it is part of the strategy to put the customers needs always first. And with result: In 2019, T-Mobile outranked the competition in overall Customer Satisfaction within the premium prepaid segment. 
About:
Boris Helleman – Marketing Manager | T-Mobile Netherlands Boris is the creative mind behind T-Mobile PrePaid. His experience with CVM campaigns based on AI, loyalty program "PrePaid Surprise" and the development of propositions allows him to focus on the customers needs without losing commercial momentum. He has been nominated by Adformatie, Nima Amsterdam and Platform Innovation in Marketing (PIM) for the award of Marketing Talent of the year 2020. Adformatie also included him in the list of Top 100 Best Marketers in The Netherlands 2020.
Mariëtta Robbé Groskamp – Country Director Netherlands | Velti Mariëtta has an international marketing and sales background and has worked for Microsoft, Dell, Orange, T-Mobile and several international start-ups. She also shares a lot of her knowledge online in her personal Blog. She works for Velti, a leading global player in innovative, mobile marketing, customer retention and loyalty based solutions trusted by hundreds of mobile operators, media groups and brands such as Coca Cola.