The most important change strategy Netflix introduced based on Westland (2022) was that Netflix adopted the radical change strategy because the core competencies of video shops were threatened with becoming obsolete by the introduction of online streaming services. They also adopted the Intermediate change strategy if you look to television because the core assets did not fully become absolute (Westland, 2022).
However, Netflix announced in July 2022, that they will introduce a new streaming plan, including commercials, by partnering up with Microsoft. The advertising-supported subscription will have a lower price, compared to the current ad-free plans (Lindahl, 2022). This new plan will also include:
A limited selection of series and films – less content available (Lindahl, 2022).
Offline viewing will disappear – content can't be downloaded anymore, you can only access it once you have a stable internet connection (Lindahl, 2022).
Paid sharing – people who want to share their account have to pay a little bit more via the "add extra member", this to tackle the password-sharing problem. This change might impact all subscription models (Chengyi Long, 2022).
 Commercials – introduction of ads early 2023 (Lindahl, 2022).
What change strategy based on Wesland (2022) is Netflix introducing with this new plan? Do you believe this is a smart step, given that it's the opposite of all key features and core values were Netflix is initially built on?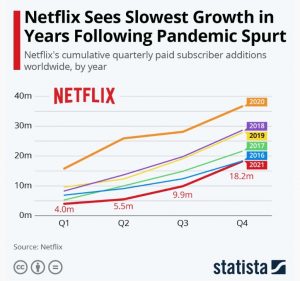 Figure 1: Netflix Sees Slowest Growth in Years Following Pandemic Spurt (Richter, 2022)
If we look at the cumulative quarterly paid subscribers worldwide from 2016 until 2021, then a totally different picture is shown in Figure 1, namely, Netflix shows the slowest growth in years ever (Richter, 2022).
Netflix saw a record year of new subscribers because of the pandemic in 2020. People sought entertainment online as they could hardly go outside. In 2020, Netflix added 36 million subscribers to their customer base, then growth slowed the following year. Netflix has the lowest annual subscriber growth since 2016 (Sherman & Clayton, 2022). This does not mean that Netflix is doing very badly right now because Richter (2022) says that the following explanations should be taken into account:
1. The new subscribers during corona unsubscribed again and were temporary customers of Netflix.
2. The macroeconomic adversity in several countries due to post-corona.
The shareholders of Netflix will not be very optimistic about these first results of 2022 and will therefore request a counter approach. Mitra (2020) stated that the social and cultural background of entrepreneurs influences entrepreneurial behaviour. Due to the new developments of the declining base and that Netflix always has been doing well, might create an environment where employees could avoid risks, and be less creative and less dependent.
What other different entrepreneurial framework could Netflix take into account? And what do you think of the strategy where Netflix is entering the online gaming market?
References
Chengyi Long. (2022) An Update to Paid Sharing. Netflix. Available from: https://about.netflix.com/en/news/update-to-paid-sharing [Accessed 24 August 2022]
Lindahl, C. (2022) Netflix to Launch Cheaper, Ad-Supported Plan in 'Early 2023'. IndieWire. Available from: https://www.indiewire.com/2022/07/netflix-ad-supported-plan-launch-date-1234743371/ [Accessed 24 August 2022]
Mitra, J. (2020) Entrepreneurship, Innovation and Regional Development. 2nd ed. Oxon: Routledge.
Richter, F. (2022) Netflix Sees Slowest Growth in Years Following Pandemic Spurt. Statista. Available from: https://www.statista.com/chart/21465/global-paid-net-subscriber-additions-by-netflix/ [Accessed 30 August 2022].
Sherman, N. & Clayton, J. (2022) Netflix loses almost a million subscribersAvailable from: https://www.bbc.com/news/business-62226912 [Accessed 30 August 2022].
Westland. (2022) Four types of change suggested. Entrepreneurial and Innovative Organisations. [Lecturecast]. MBA Innovation and Entrepreneurship for New Business Models August 2022. University of Essex Online.